BLINK is a performance that uses eye blinking as a performative tool.
It is a part of our current research into rhythms and patterns of our body and brain, and makes use of the different dynamics of conscious and unconscious blinking. 
Our performance setting suggests a step-by-step progression and linear procedure in which the body serves as an intermediate between cause and effect. Three people sit in front of a screen and "read" eye-blinking instructions from a visual score (blink, blink, pause, stare, blink…)
The blinks are captured with EEG headsets. Every blink gets translated into a boost of light and a sound. However, the seemingly simple one-to-one connection becomes challenged as the piece progresses. Gradually, the link between the score's instruction and the generated visual and acoustic environment slips. The effort to control the body's natural blinking rhythm eventually fails. The signals hick-up and the eyes tear.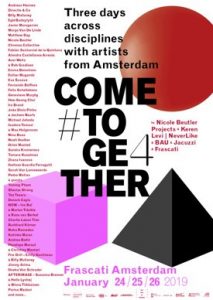 Performances:
25.01.2019 Come Together #4, Frascati Amsterdam
Artistic team:
Performance: Roos van Berkel, Ivo Bol and Marion Tränkle
Sound Design: Ivo Bol
Lighting Design: Marion Tränkle
Registration: Eric de Clerq